Welcome to our latest tutorial where we'll dive headfirst into the world of transmitters and receivers in game design. By the end of this lesson, you'll have conquered the art of creating moving platforms that respond to triggers, adding a whole new dimension of interactivity and thrill to your game levels.
Within game design, you can use triggers in multiple ways within your levels. They serve as the logic behind the scenes that can prompt the player to navigate through the level, determining how to progress within your map. Here are some of the different ways you can incorporate triggers into your designs:
Devices: Within a scene, the player may need to trigger a device to turn on in order to get information they need in order to understand the world and progress.
Mechanics: A layer of complexity can be achieved by using triggers to turn on game mechanics such as jumping platforms.
Doors: The most generic use case is using a trigger to open a door that requires a key or other predetermined step in order for the player to progress.
Now that we have some context on how triggers are used within a level, let's get started and unleash the power of game design!
First things first, let's kick things off by duplicating some of the magic you've already got going on in your game. Here's the scoop: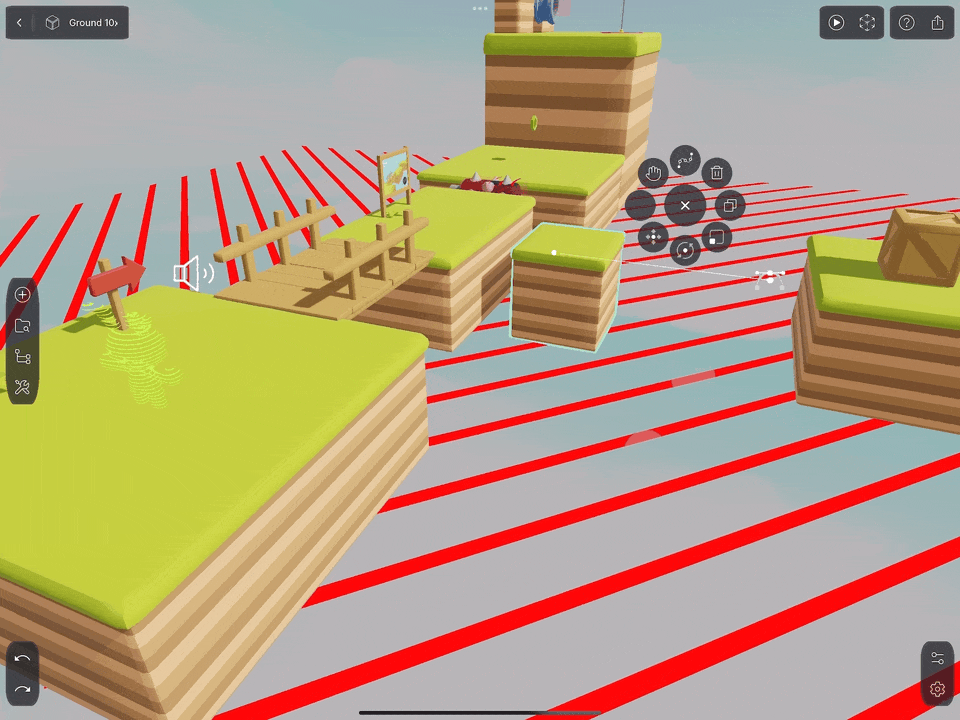 Now, let's add a dash of excitement with triggers. These little gems will make your game elements spring to life. We will start first by adding an Activator to the platform that we can use with the trigger. Check it out:
Hold onto your hats, because now it's time to make the magic happen. Transmitters are our secret sauce, and here's how to cook it up:
Previously we set an activator on our platform to allow for it to be dynamically triggered within our scene. Let's just see how easy it really is:
Drumroll, please! It's time to see your creation in action. Suit up and jump into your game environment for a test run. Step onto the trigger like a true adventurer and watch that platform come alive, swaying and swooshing:
You're officially a game design rockstar! With transmitters, receivers, triggers, and interactive platforms in your arsenal, there's no limit to what you can create. Let your creativity run wild, and don't forget to share your jaw-dropping creations with our vibrant community of fellow game enthusiasts. Get ready to craft epic adventures that players won't be able to resist. Make a scene!
To unlock a wealth of tips and tricks, make sure to visit our YouTube channel or check out our official Discord, where we delve into the ins and outs of these tools and many others that will guide you on your creative journey!